1. KINABALU PARK
The Kinabalu Park is Malaysia's First World Heritage site and one of the most popular Sabah attractions. The area is approximately 75,370 ha of land which includes parts of 3 districts of Sabah; Ranau, Kota Belud and Kota Marudu. To put into perspective, the park is bigger than Singapore (said some on Google).
Kinabalu Park, houses 2 mountains which are Mt Kinabalu (highest in Malaysia) and Mt Tambayukon (3rd highest). The Mountain is the anchor tourism product in this area. It also serves as a playground for scientists and researchers due to its accolades of: covering 6 types of vegetation zones from lowland rainforest to alpine scrub, hence it was dubbed the center for plant diversity for South East Asia. For more technical information, it's best to click off to the Sabah Park's page as here on, we'll take a cheat sheet approach and give you the quick must-see's and do's of the area.
We begin with a fair reminder as we know many enjoy gardening. But. Never ever help yourself to any plants in the park vicinity! That's pretty much the biggest DO NOT DO in the park.
We know for a fact that, the view from certain parts of the park is picturesque (your kids would say Instagrammable or is it InstaWorthy now?)! And that's why day trippers would enjoy is the pit stop for the view and a short walkaround the area for some flora spotting and squirrels. Can you stay in the Kinabalu Park? Yes. There are several lodges and villas.
2. Sipadan Island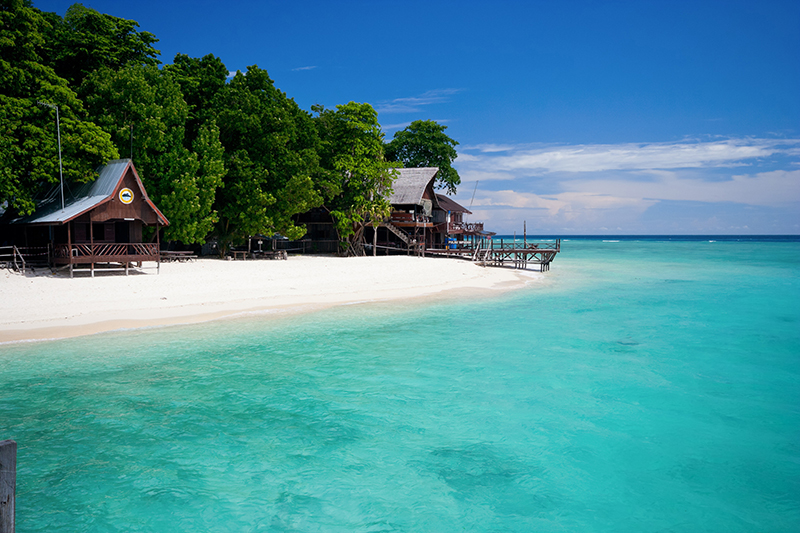 Sipadan has appealed as one of the top dive sites in the world and it's one of the most popular Sabah attractions. It has been highly sought after by divers for its array of possible sightings. The mushroom like island (from a far off eye level view) offers 12 different dive points. Some say that Barracuda Point is the best especially for the opportunity to be amidst a swirling vortex of barracuda. Other say, the Drop Off is even better in terms of experience which only requires a 9.14 metre walk on the beach before dropping off into the water, and to then go around the island wall which is 600m from the ocean floor.
Sipadan is well known for its unusually large numbers of green and hawksbill turtles which gather there to mate and nest and it is not unusual for a diver to see more than 20 turtles on each dive. More than 3000 species of fish and hundreds of coral species have been classified in this richest of ecosystems and thus made Sipadan an important marine habitat in this region.
Did you know that Sipadan's popularity started off being a Bird Sanctuary? Migratory birds such as wood sandpiper can be sighted apart from the common sea eagles, kingfishers, sunbirds, starlings as well as megapodes.
3. Sepilok Orang Utan Rehabilitation Centre
The Sepilok Orang Utan Rehabilitation Centre (SOURC) was established in 1964 to rehabilitate orphaned orangutans and it's the one of the most popular Sabah attractions. It has since grown from having just an outdoor platform to having an Outdoor Nursery viewing area. It is located within the Kabili-Sepilok Forest Reserve, making the area suitable for trekking and birding.
If you are coming from the Sandakan City Centre, SOURC is about a 40 minute (23KM) drive away. There are also many jungles lodges within a 1km radius of the area that one could opt for.
Generally visitors to Sepilok are able to see orangutans during the scheduled 10:00am and 3:00pm feeding session at the platform. Alternatively, some orangutans can be seen from the outdoor nursery. Have there been occasions where no orangutans have not shown up for feeding? Admittedly yes! And we give you this heads up, while not something that occurs frequently, the main reason the orangutans may not appear during feeding time, is because they managed to get food in the wild, especially during fruiting season. This is indeed a great feat in actual fact, as the whole purpose is to ensure these primates understand that their natural home is in the wild and not to be dependent instead on a conditioned environment.
"I have touched and hugged and orangutan. Why can't I do so here?"
Because many human diseases could affect orangutans who share 96% similarities in DNA, hence at SOURC, we request that visitors do not touch the orangutans, especially those who may appear on the boardwalk.
Adjacent to the Sepilok Orang Utan Rehabilitation Centre is the Bornean Sun Bear Conservation Centre.
4. Danum Valley Conservation Area
About
One of the most popular Sabah attractions, 80km from Lahad Datu city is the Danum Valley Conservation Area, considered as one of the world's most complex ecosystem and classified as Class 1 (Protection) Forest Reserve under the Sabah Forestry Enactment 1968. The enchanted forest serves as a natural home for the unimaginable number of plants and wildlife species such as banteng, clouded leopard, orang utan, slow loris, proboscis monkey including the endangered Bornean pygmy elephant. The world's tallest tropical tree of Yellow Meranti tree species (Shorea faguetiana) is also found in Danum Valley, Sabah. At a recorded height of 100.8m or 330.7ft this giant tree, known as 'Menara' (Malay for Tower) is only 21.2m lower than the iconic Tun Mustapha Tower in Kota Kinabalu.
Guided trails, bird watching and night drive are among the activities offered to visitors seeking to experience the wonders of this area. Visitors have recorded so many incredible sightings just by being around the area and lodges. Among the famous previous visitors include the Duke and Duchess of Cambridge Prince William and his wife Catherine Middleton, natural historian Sir David Attenborough, Dame Judi Dench and Martha Stewart.
Visitors also get the chance to visit an ancient burial site, complete with belian coffins and ceramic spirit jars. Three burial sites have been discovered in Danum Valley—two near the field centre and one below the cliff, overlooking Borneo Rainforest Lodge.
5. Bohey Dulang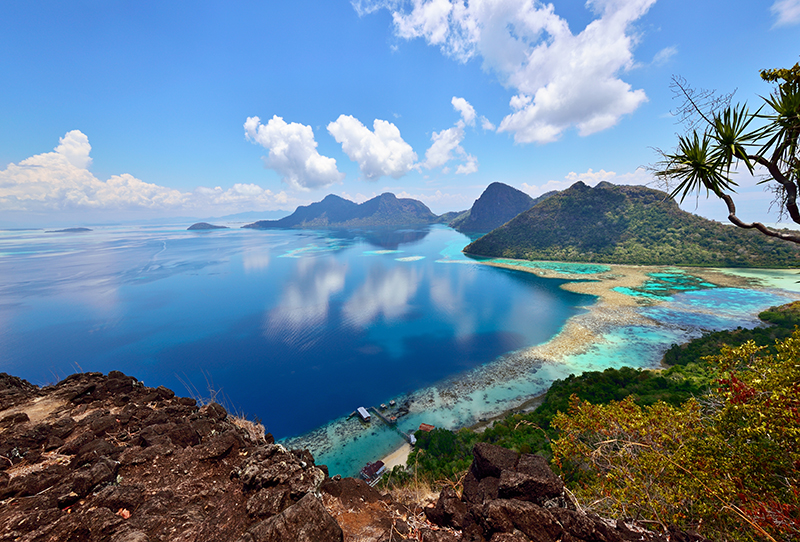 Legend has it that Princess Salamia from Bum Bum Island was hidden by her family in Bohey Dulang, to avoid an arranged marriage to an ill-famed Sultan from the Southern Philippines. She was turned into a fairy and hidden by the spirits after her vanishment. From a geology perspective, the island was formed from remnants of volcanic activity. Bohey Dulang is the second-largest island amongst the Tun Sakaran Marine Park Islands and one of the most popular Sabah attractions.
To get to this Sabah attraction, you will need to take a 30-minute boat ride from Semporna mainland. You will need to wear covered shoes on this challenging but rewarding hike. You can also rent the practical and sturdy Adidas Kampung shoe at a nominal fee. The newly established route allows only for a one-way route; 700 metres heading up, and 600 metres heading down, aided with some staircases along the way. Day trips to Bohey Dulang include trips to other neighbouring islands as well and can quickly be booked through tour agents in Semporna.
The difficulty of the hike up is highly dependent on your stamina. But fret not for those who are less fit, you will be mesmerized by the beautiful view upon reaching the top and that Instagrammable moment, it what makes the hike all worth it. "Super exhausting but worth the trip" would be a common expression for visitors.
Open Daily from 8am to 4pm.
6. Kota Kinabalu City Mosque
Situated near the sea, this majestic white mosque boasts similar features to the Nabawi Mosque in Medina. This floating mosque has a prayer hall which houses three madrasahs and accommodates from 9,000 to 12,000 people at a time.
By far the largest mosque in Kota Kinabalu, the Kota Kinabalu City Mosque is even possibly the most beautiful one in Malaysia – the man-made lagoon which surrounds it gives a serenely gorgeous and dramatic look to the mosque on a full moon night.
The Kota Kinabalu City Mosque is open for the public to visit, however all visitors are required to register with the Kota Kinabalu City Mosque Tourism Management.
When visiting the Kota Kinabalu City Mosque, visitors are required to follow the following rules:
Dress appropriately. Whether you are visiting outside or entering the mosque, all visitors are required to cover up and dress modestly. Before entering, visitors are required to wear coverall provided by the City Mosque. Cover up clothing can be rented for RM 5.00 – RM10.00
All visitors are required to show respect to the place and act politely.
All visitors must abide by the rules set by the City Mosque including observing the off-limit areas.
No food and drinks allowed in the City Mosque area.
When taking photos or videos, all visitors must always be mindful to not pose or act in an inappropriate manner.
No imitating other religions act of prayer.
Visiting Hours:
Monday – Sunday : 8.00am to 12.00noon, 2.00pm to 3.30pm, 4.00pm to 5.30pm
Friday: Closed
Entrance Fee :
International Visitors : RM 5.00
Malaysian: FOC
7. Desa Cattle Dairy Farm
Playfully known as the 'Little New Zealand' of Sabah, this place reminds you of Kiwi land's famous dairy farms. The cooling air, foggy surroundings and highlands landscapes naturally make you feel as if you are somewhere overseas.
The real attraction here is the cattle farm, producing about 900,00 litres of milk per year. The farm is about 199 hectares and most of the milking cows are Holstein Friesians breed, the highest milk producer of all cattle breeds.
The place is an ideal destination for the whole family, where there are plenty of activities such as feeding the calves with bottled milk, feeding goats, observing how milk is processed as well as the educational tour for all. If you have ever wondered how milk is collected and then commercialized, Desa Cattle Farm is the place to be.
Desa Cattle Dairy Farm has been developed and integrated into an Agro-tourism business that proves to be sustainable and produces high-quality local-made products such as assorted fresh milk, yogurts, cheese and yes! their famous Gelato ice cream.
The live farm is not only the main attraction but so are the food. Pairing a nice view with delicious snacks and drinks makes a perfect combo.
8. Tawau Hills Park
When in Tawau Hills Park, be sure to check out the 2 hectare Lowland Gardens, home to an astounding selection of flora such as the Elephant Ear Orchid (Phalaenopsis gigantea) which is endemic to Borneo.
Tawau Hills Park is also a favourite spot for hikers looking to train their endurance. The challenging hilly terrain has 3 main elevations – Mount Magdalena (1310 metres), Mount Lucia ( 1202 metres) and Mount Maria ( 1083 metres). All climbers should obtain a permit from Sabah Parks before climbing. Mountain guides and porters are available for hire.
The hot spring, Table Waterfall and Galas Waterfall are the other attractions in this beautiful park. It's no wonder that Tawau Hills Park has become a popular recreational spot for families and friends to enjoy a picnic or, for the outdoor enthusiast, spend a night camping under a blanket of stars. Chalets and hostels operated by KOKTAS are available for those looking for more comfortable options.
Many people visit Tawau Hills Park during the school holidays or at weekends. For those who would like to avoid crowds, weekdays are the best time to explore.
9. Kapalai Diving
Kapalai is a shallow reef upon which sits a stilted resort located around 20 minutes from the Malaysian scuba mecca of Sipadan. Kapalai diving is about more than just going to Sipadan every day; it also offers a lot of its own sites, some of which can be accessed by striding off the resort's own diving platform.
The beautiful wooden resort looks more like people's idea of honeymooner's favourite the Maldives, than like Borneo and there is something undeniably romantic about falling asleep with the sea breeze wafting in through your cabin as the shallow water gently laps below.
Living right on top of a coral reef is Kapalai's chief feature and that you can dive some excellent critter sites by simply striding off the resort is worth a special mention. To think that there is so much life and activity going on right below you is something unique to scuba diving at Kapalai. Crocodilefish, frogfish, mantis shrimps and cuttlefish all live near your room. And if you drop in at sunset you can witness the sexual union of several pairs of beautiful mandarinfish!
There are several great sites within easy reach of the resort whether they be small walls, shallow reefs or sandy flats with little rocky outcrops where life seems to be concentrated. Just like nearby Mabul Island, some people come to dive only Sipadan and find themselves choosing instead to dive frequently at Kapalai to enjoy the fascination that macro diving here creates.
10. Tunku Abdul Rahman Park
The Marine Park is a cluster of islands; Gaya, Sapi, Manukan, Mamutik and Sulug. Except for Sulug, the other four islands are easily accessible and commercially ready for visitors. Snorkelling, scuba diving, beach activities, water sports and picnics by the beach are some of the activities visitors can enjoy. Visitors will also be delighted to know that they can try the Coral Flyer zipline experience, Malaysia's longest island-to-island zipline, that start from Gaya to Sapi Island.
Gaya Island house a few excellent 5-Stars resorts – Gayana Eco Resort, Bunga Raya Resort and the Gaya Island Resort by YTL. A resort accommodation is also available at Manukan Island operated by Sutera Sanctuary Lodges. Visits to these premises require prior bookings.
Island hopping tours can be booked on the spot at the Jesselton Point jetty terminal. For diving activities, it is advisable to make a prior booking with a dive operator.
Join us on an expedition to Kiulu, a small town situated in Sabah surrounded by beautiful natural forests and rivers with stunning view of Mount Kinabalu. It is a place where you will see, hear, and feel that you have been catapulted back to a long forgotten era. Not only you will be greeted by various types of dinosaurs, there will be lots of fun activities waiting for you to explore.
But watch out, our dinosaurs are AGGRESSIVE! So, please refrain from aggravating them!